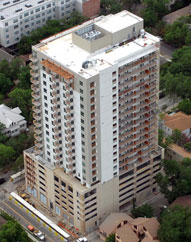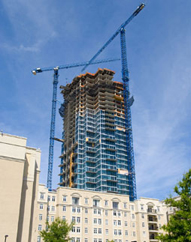 In the News
Spherexx.com ® Launches 21 Rio's Luxury High Rise Web Site. The new, luxurious twenty-one story 21 Rio apartment community stands as an elegant glass obelisk in the shadow of UT Austin's west campus... Read More
Everyone who has been by the corner of W. 21st Street and Rio Grande in downtown Austin, Texas, cannot miss the excitement of seeing the newest addition to Austin's skyline rising from the ground. Additionally, the stunning building is being constructed with the Austin Energy Green Building (AEGB) designation in mind.
Read More
About Maxum Development in Dallas, Texas
Maxum Development, based in Irving, Texas, has been developing quality real estate for twenty-five years in the state of Texas, and especially in the Dallas Metroplex. The company is focused in niche markets for multi-family garden style housing, student housing, high rise, and retail properties. Committed to quality design, location and production, Maxum's most recent development is 21 Rio in Austin, Texas.
If you would like more information about Maxum Development, please contact us.
Maxum Development Projects
21 Rio ~ Apartments in West Campus ~ Apartments in Austin, Texas
Maxum Development selected Andres to construct 21 Rio, a high-rise residential project located just west of the University of Texas in Austin. It is the tallest building in the West Campus area.
Owner Gary Perkins of Maxum Development, who has significant construction experience himself, selected Andres based on their high-rise experience and hands-on leadership team. "But it was our architect, Jerry Merriman," said Perkins, "who first told me that he had developed great respect for Andres through his work with them on high-rise projects in downtown Dallas." The $44 million, 21-story development features one, two and three-bedroom units, as well as approximately 4,000 square feet of ground-floor retail space. Austin Mayor Will Wynn praised the developer for creating a dense, high rise that will house a significant number of students. "Andres is ahead of schedule and under budget," Perkins said. "That is crucial on this project that is designed to house students." Parking will be provided in an internal, attached garage, which occupies the first 6 floors of the apartment tower.
The project is being constructed lot-line to lot-line, which increased the difficulty of staging materials. As a result, the scheduling and storing of materials was carefully orchestrated by Andres and constantly monitored by the on-site field staff. "Wade Andres and Tom Feather immediately came up with ideas to make adjustments. Then they worked with the city to have the adjustments approved quickly. It is for this reason that I am planning to use Andres on my next high-rise project."
Industry Resources
Spherexx.com ® ~ Apartment Websites, Internet Marketing & Search Engine Performance